The Chewbacca Mask Mom, otherwise known as Candace Payne, has become a viral sensation that most people can't help but smile at.
Without planning on it Payne became one of the most highly viewed videos on Facebook with over 130 million views.
Inadvertently, Chewbacca Mask Mom also set a new standard for the "haul video".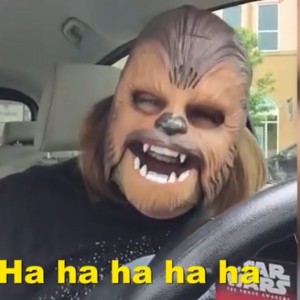 Social Media Marketing Beverly Hills said that like most haul videos, Payne began talking about her shopping experience at Kohl's and then showed us her new purchase.
However, unlike most haul videos, Chewbacca Mom made an instant splash.  People were liking and sharing her video without even knowing or considering it to be marketing.
Not only has her video made millions of people smile and laugh alongside her, but it has also caused the "Star Wars: Episode VII The Force Awakens Chewbacca Electronic Mask" to sell out among Kohl's nationwide.  Alongside Kohl's the mask has also sold out at Target and Wal-Mart.
No haul video has ever had the capability of selling out huge retail stores in a matter of a few days.
Payne has unintentionally become one of the most successful haul vloggers, without even knowing it. Although this began last Thursday, Payne continues to be a hit online with her vivacious laugh and contagious attitude. Sometimes unintentional marketing can be the best kind of marketing.
This accidental marketing mishap has benefited Kohl's and other retailers so much that they rewarded Payne with a bunch of Star Wars gear, as well as, $2,500 worth of gift cards.
Out of pure happiness and joy she shared with her friends on Facebook something that she thought would make others smile, little did Payne know she would actually be promoting the product nationally.