Mexican fast food restaurant chain, Chipotle, has gone through some rough times as of late.
Chipotle still has its loyal fans, but many have sworn off Chipotle's burritos and bowls due to recent health and safety violations.  Earlier this year, the chain weathered an E. coli outbreak that took place in over 10 states and affected 60 people.  Not to mention, Chipotle's chief marketing and executive development officer Mark Crumpacker, was charged for possession of illegal drugs early July.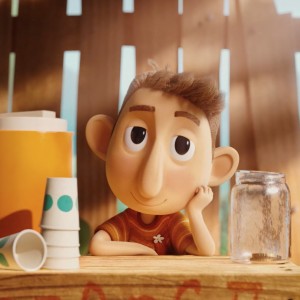 So far 2016 has definitely been a bumpy year for Chipotle, but the company is attempting to turn things around and make amends with their new ad.

 

The chain put out an adorable animated film short called "A Love Story". 
The advertisement features a Backstreet Boys cover, and follows two lifelong juice stand competitors.  The girl sells lemonade, and the boy sells orange juice across the street.  The video follows how their empires evolve over the years with overzealous automated business practices as their rivalry grows. 
Both of their businesses end up spinning out of control with outrageous menu items and mechanical food prep techniques, inspiring the adversaries to go back to basics and join forces.  The heartfelt Pixar-esque video represents Chipotle's desire to go back to its basics, before all of the public embarrassments the company had to endure this year.
The video has already racked up over 5.6 million views after it was published July 5th.

 
Can this advertisement serve as an example to marketing and SEO Service companies?  Some consumers were charmed by the storytelling ad and left positive comments on the video, while others remained steadfast in their decision to stay away from the casual Mexican chain with the second comment being "And then they all died from E-Coli. Thanks Chipotle!". 
Does Chipotle's advertisement sway your position on the food chain? Check out the animation for yourself.